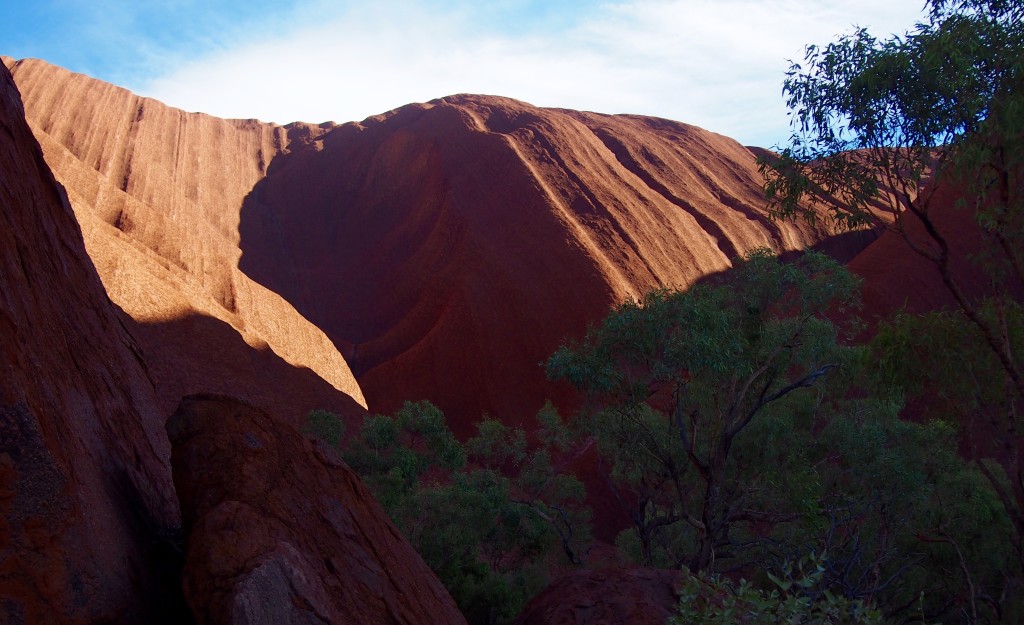 The beauty of Uluṟu-Kata Tjuṯa National Park is unmatched, and a stop here is an incredibly special travel experience the likes of which you could only have in the Australian Outback, which makes the extra expense worthwhile. You get to see mind-blowing desert sunsets, incredible natural wonders–from stunning rock formations to elusive wildlife–and learn about the people that have called this place home for tens of thousands of years. It has truly been one of my favorite experiences in Australia. To risk sounding preachy: when visiting this special place, it's important to remember that this area is more than the sum of its interesting rock formations. There's important historical, cultural, and religious significance, and should be treated as such. Here are some things to keep in mind for your Uluṟu trip:
1// Be respectful. This is the most important rule, and really a good rule to employ when traveling anywhere. This land and these sites are owned by the Aṉangu ("AH-nah-noo"), one of the oldest living cultures in the world, and they generously allow visitors onto their land to see and experience their sacred sites. And as visitors, it is our job not make them regret it. Treat locals with respect, treat the land with respect, follow the rules, and be a good visitor.

2// Do not climb Uluṟu. Though it is technically "allowed" (in that you will not go to jail or be removed from the park) the Aṉangu ask that you do not climb it, and thus it's really quite rude to do so. I know from experience that you can get plenty out of your visit by doing a base walk (it only takes a few hours to walk around the entire rock). I don't feel like my trip was devalued in any way by skipping the climb. Thousands of climbers' feet have left a white scar on this sacred site, and because there are no bathrooms up at the top (ahem, because people shouldn't go there), tourists are POOPING on the top of Uluru. Not only does this cause major contamination to the watering holes when it rains, it is horrendously disrespectful. Can you imagine if someone went to Paris, climbed to the top of Notre Dame, and took a poop in the bell tower? How about hundreds of people doing it every year? Please do not climb Uluṟu…and especially do not do your toilet business on top of it.
3// Do not take pictures of Aṉangu people without asking for permission. I'd err toward not taking the photos at all, because the Aṉangu are human beings, not tourist attractions or quirky cultural artifacts. If you must have a photo, please be very polite, and get clear permission before pointing your camera at anyone. If permission is refused, don't take a sneaky pic, just move on.
4// Pay very close attention to signage, especially around Uluṟu itself. There are several sacred areas that the Aṉangu would like not to be photographed, and they are very clearly marked by signs along the path. Please do not take photos in these areas, or if you found that you have accidentally taken some, please delete them ASAP. There are miles of approved areas to photograph all around the rock, and your photo collection will definitely not suffer for lack of photos of Uluṟu. The signs are useful not only for photo restrictions, but for tons of info about local plants, wildlife, and even stories about the history of Uluṟu and the Aṉangu people. Be sure to read them!
5// Do your homework when buying souvenirs. If you are buying indigenous art (and you should, Australian Aboriginal art is varied and beautiful, and it makes an incredible souvenir), be sure you are buying from indigenous-run shops, and that the money is actually going back to the artists. I know that cheap, mass-produced tea towels are tempting, especially for travelers on a budget, but the artists make very little money from these types of souvenirs. It's definitely worthwhile to drop a little extra money to make sure you're buying ethically (There's a fantastic indigenous-owned art shop in the Uluru visitors center in the National Park). This way, you're getting a unique, hand-painted work of art, and you can feel good knowing your money is going to the right place.
Enjoy your trip to Uluṟu, and keep in mind that it takes very little effort to be a considerate visitor, but it makes a massive difference.
Note: I am writing this as a white foreigner who was a tourist in Uluṟu-Kata Tjuṯa. My aim is not in any way to speak for the Anangu people, but to encourage other non-indigenous travelers to be respectful visitors. If I've offended or gotten something wrong here please shoot me an email at katy(at)six-bones.com to let me know and I will make corrections immediately.