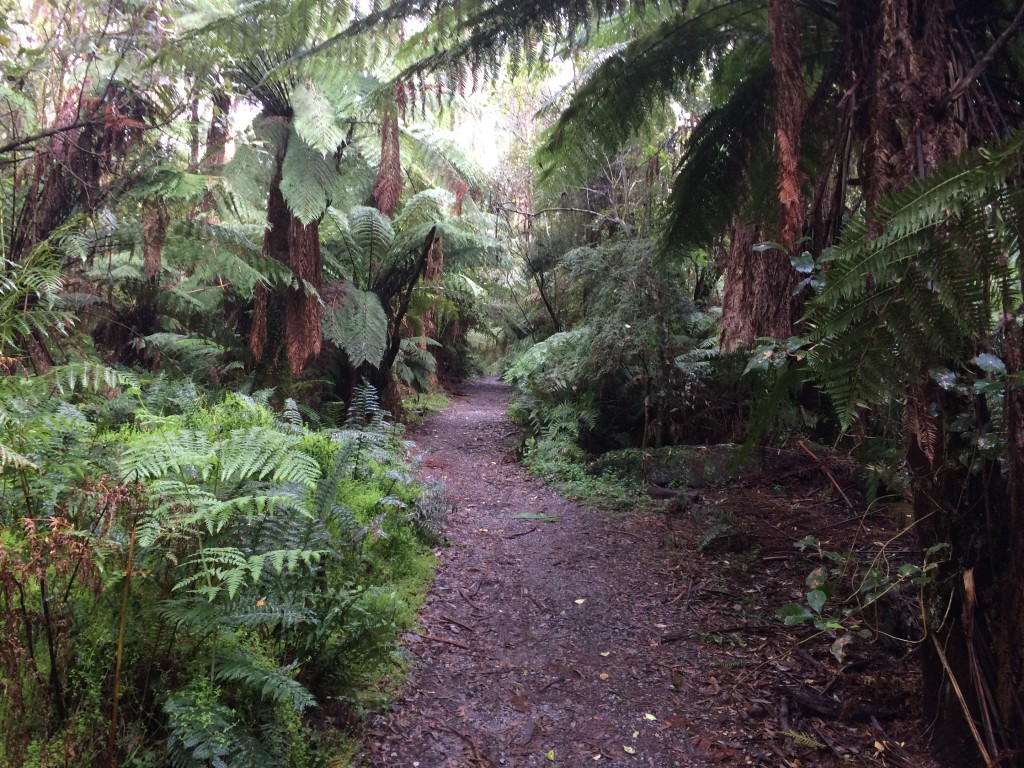 Though I've lived in Melbourne for several months, I recently came to realize that I hadn't really seen much of Melbourne outside of the city and the inner suburbs. After doing some cursory research about day trips, I found that there are tons of things to do really close to the city, and one of the most appealing was a trip to the Dandenong Ranges, a set of low mountain ranges that are actually part of greater Melbourne.
The Dandenongs contain, among other things, an absolutely stunning rainforst, and the plant life is in quite lush. The Sherbrooke Forest, filled with towering gum and mountain ash trees, as well as massive ferns, makes you feel like you're in Jurassic Park, and a dinosaur could emerge from the foliage at any moment.
My tour also included a short ride on Puffing Billy–a historic train that puffs its way through the Dandenongs several times a day–and I got to do a bit of exploring in Sassafras, a cute little town with lots of cafes and antique shops. All in all a great way to spend the day, but I unfortunately made one major mistake…I went to the Dandenongs on a bus tour.
The bus tour itself was not a problem, the guide was knowledgable and perfectly lovely, and I was able to see a lot in a pretty short period of time. Plus, we got to have tea and Lamingtons in the woods, which was quite nice. I'm generally a fan of bus tours for day trips, they're a great, efficient way to get directly to a lot of sights that may be difficult to get to on your own, and you can learn quite a lot from tour guides, but about halfway through the day, I realized that with a little more research I could have done the whole thing on my own for much cheaper.
As our bus drove out farther and farther, I was surprised that we were continuing to pass metro stations (I knew Melbourne's train system was extensive, but not that extensive). My heart sank a bit when we passed yet another station…just a few minutes before turning into the Sherbrooke Forest.
Getting to the Dandenongs on the cheap:
I have since found out that I could do pretty much that whole trip without getting on a tour bus. It takes a little bit longer, but you can save a bundle.
The daily cap for Myki (the Public Transit Victoria fare system) is $6 on weekends and $7.52 on weekdays, so even taking a train and a bus each way, you're spending less than $8 on transport. From Melbourne Central, take the train toward Belgrave, getting off at Upper Ferntree Gully. From there you can take the 688 bus (toward Croydon) to the National Park. If you'd like to take Puffing Billy, which is worthwhile, but for 50 bucks return could definitely be missed if you're on a tight budget, you would just go back to the train and continue on to Belgrave. Ask at the station and someone will point you to where you can catch Puffing Billy.
Note: There are two 688 buses, and one will take you all the way to the Mt. Dandenong Observatory. Be sure to ask the driver if you're on the right bus!
If you'd like to go to Sassafras, which would be a good spot to grab lunch, you'd just continue on that same 688 bus you took to the Nat'l park and it'll take you right into Sassafras.
If you like to keep things simple (and cheap), pack a lunch and spend a day just wandering the many walking paths in the Sherbrooke Forest. If you're up for something a little more rigorous, you could climb the 1000 steps to the top of One Tree Hill.
While my bus tour was good (the Grayline tour, if you're interested) I always get a little mad at myself for paying significantly more than I need to for something I could have easily done on my own. I'll call that my laziness tax, and a lesson learned!